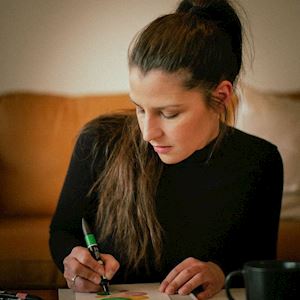 Sarah Rautell
Nacka, Sweden
During my life I have given vent to my creativity in many different ways - drawing is just one of them.
These are feelings, considerations and expressions I need to get out in some way.
Dancing has been my "sassy" side, singing has symbolized the pure innocent and photography and painting the slightly darker and melancholic.
It may not be visible in my motives, but that is what has driven me to sit down with the pen.
Usually early, early in the morning when I start the day with coffee and need a little mindfulness.
What comes out is often repetitions; similar motifs in different colors or to create something dot by dot. Surrealistic and simple in a difficult and sometimes time consuming way.
Read more